Ashlee Hoping For 'SNL' Redemption With October Appearance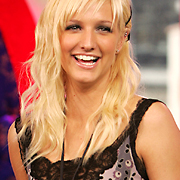 Singer says she's learned from infamous incident, looking forward to return.
Ashlee Simpson is returning to the scene of the crime — she's going back on "Saturday Night Live."

Now whether that's a brave or stupid thing to do remains to be seen, but come Saturday, the singer is going to try to get past the
water-cooler moment that practically defined her career last year and turn it into something triumphant — overcoming her fears and facing her imperfections in one fell swoop. "That would be a great opportunity, that would be great for me," Simpson said.

"I think everything happens for a reason," she added. "I feel like I became a stronger person and I definitely grew from that situation. I really learned how to stand up for myself."

Throughout the whole debacle, Simpson said her family stayed right by her side, especially older sister Jessica, who remains "absolutely" supportive. "Dude, she's been through everything," Ashlee said.

The singer's also learned to tell the difference between true friends and mere hangers-on, and how to keep the latter out of her life. "There are people around you who love and support you, and people that are around who don't," she said. "I'm learning to balance that. I'm learning what's real and what's not."

Most importantly, Simpson said, she has come around to accepting her imperfections, because you don't learn unless you make a few mistakes along the way. That, she said, was part of the growing up she needed to do to be able to make her new record, I Am Me, out October 18. The LP has two songs that address the "SNL" incident: "Beautifully Broken," which, she said, is "basically saying that it's OK to be broken, that there's a beauty in that," and "Catch Me When I Fall".

"I wouldn't have some of the songs on my record if it weren't for learning that it's OK to fall on your face, it's life to learn how to put yourself back together," she said. "Those songs didn't happen till later on in my record, until I was kind of really ready for it and had the right view on it. I'm really happy with the way the songs turned out. But I wanted to do them no matter what."

Check back Monday for more on what Ashlee has to say in "Ashlee Simpson: Everybody Has Moments."