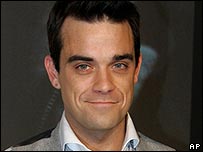 Williams has a new album out later this month
Singer Robbie Williams' new single has failed to take the chart top spot, with the Sugababes still holding on to number one.
Tripping entered the chart at number two while Push the Button enjoys a second week at the top.
Don't Cha by the Pussycat Dolls, with Busta Rhymes, slipped a place to number three, while veterans Depeche Mode's Precious entered at number four.
Mercury nominees Bloc Party have taken the seventh spot with Two More Years.
In the album charts the second record from Mercury Music prize-winners Franz Ferdinand has gone straight in at the top.
Their success has forced Katie Melua's Piece By Piece into the runner-up slot, while Back to Bedlam from former soldier James Blunt remains at number three.
Earlier this week Robbie Williams defended Kate Moss, after she was exposed in newspapers taking cocaine.