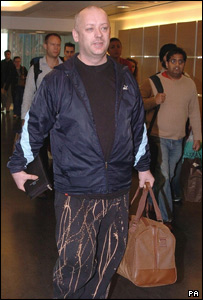 Boy George touches down in London
Boy George has flown back to the UK two days after his arrest on drugs charges in New York.
The star refused to comment as he touched down on Sunday. "I am not speaking to anybody about it," George told reporters at Heathrow.
"Don't ask me any questions because you aren't going to get any answers."
The DJ and former Culture Club singer has been charged with possession of drugs and faces up to 15 years in jail if found guilty.
A lawyer for George has denied that drugs found in his New York apartment belonged to the star, say reports.
"It was a small amount of drugs," Lou Freeman told the New York Post.
Burglary report
"He doesn't know where it came from. He's had a lot of people in his house."
The star touched down at Heathrow Airport, outside London, on Sunday afternoon.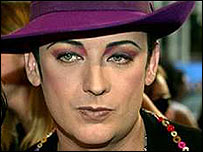 Police attended Boy George's home following reports of a burglary
George called police on Friday to report a burglary. Officers found drugs next to a computer in the apartment.
"A man who has something to hide does not call police," said Mr Freeman.
A spokeswoman for the Manhattan District Attorney's office said he was released after being charged with possession of a controlled substance.
It is alleged he had more than an eighth of an ounce (3.5g) of cocaine.
The charge carries a maximum penalty of 15 years in prison. He is scheduled to return to court on 19 December.
He has also been charged with falsely reporting an incident.
The star - real name George O'Dowd - rose to fame in 80s band Culture Club.
He also suffered from a well-publicised heroin addiction during that decade.
During the 90s, he established a successful career as a club DJ.
He moved to the US around the time his musical Taboo transferred to Broadway in 2003, but it received mainly negative reviews and closed after less than three months.