Game Recording LP, Growing Afro, Moving Next Door To Hilary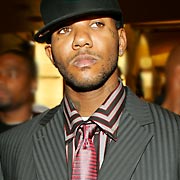 When the Game is done, Arnold and Willis, Rerun, and even Cooley High's Richard "Cochise" Morris won't have anything on him. He's growing out an afro and has gone so far as to buy a pick with the black-power fist on it to keep himself groomed.


"I got the hair growing," Game said recently in New York, taking off his Cincinnati Reds fitted cap to reveal his new 'do. "I think I'mma roll with it, the chicks dig it. ... I'm waiting for [my hair] to grow out big enough and I'm gonna stick [the pick] in there."

Game's actually growing his hair out for his role in "Waist Deep," a film he's currently shooting in L.A. with the likes of Tyrese, Larenz Tate and Meagan Good.

"Since day one Larenz and Tyrese have been playing monumental roles in my acting success," he said. "I say 'success' because I'm flat-out good. I got a new name: 'Larenzel Washing-Tate.'

"That's my new name and that's what I'm going by," he continued with a half-smile before continuing to describe the film. "It's just a good 'hood flick, man. I play a character called Big Meat. Big Meat don't f--- around; he's chopping off arms, he's like Nino Brown in 'New Jack City.' It's a story about Tyrese going to the pen. He's getting out, and my character is taking over the neighborhood. Larenz Tate's character is named Lucky, and he's Tyrese's cousin in the movie. He ends up not picking up Tyrese's son from school and some of my cats end up kidnapping Tyrese's son by carjacking him and not knowing that his son was in the back of the car asleep. It's just 'hood from there."

In real life, Game still hangs in the 'hood but is in the process of purchasing a multimillion-dollar crib in an exclusive area, a place he calls, with a grin, "the block of stars." He's going to be living on the same stretch as Hilary Duff and Good Charlotte's Benji Madden, who, Game says, has already been playing the good-neighbor role by buying him a car cover for his 1968 Chevelle.

Game recently collaborated with the Madden brothers on an unnamed track, and the Compton MC says he's not sure where's it's going to land.

"They produced it, and Benji and Joel jumped on the hook," Game said. "It came out crazy. It's crazy, it's 'hood and wild. Them guys are wild. I befriended [the Maddens] two VMAs ago. I met Benji backstage and we been friends ever since. Them dudes is crazy."

Game, who appears on the new Lil' Kim and Kanye West LPs, says his main recording concentration, however, is the follow-up to The Documentary. He's already finished up tracks with Just Blaze and Cool & Dre and wants to recruit the rest of the producers he used for his official debut.

"I'm going back in with the same team and we gonna get it done on a different note," he said.

"All it's going to take me is a couple months," he added of the recording process. "Hopefully I'll be done before Christmas. If not, so what, it'll come out when Dr. Dre says it's ready."

His professional duties are keeping Mr. "Washing-Tate" so busy these days, he rarely has time to charge the battery on his cell phone. But rest assured, Game does clear his schedule often enough to spend some quality time with his son, Harlem.

"Harlem is already famous man," the proud papa said of his boy, who appears in the artwork to The Documentary as well as the videos "Hate It or Love It" and "Put You On the Game." "It took me six months to find a school in California where nobody knew who he was. But he's in there, nobody knows him. He can just be Harlem. I dropped him off at school and he had his little SpongeBob roller briefcase thing that he picked out himself and he rolled on in there. He ain't even say bye. I told him I was going to New York, and he went straight for the building blocks. That's my inspiration, my life."